Drive productivity and keep your dust collection system up and running with our all-in-one maintenance aide.
Improve usability with a larger screen and cleaner navigation.
Pulse individual solenoids to aid in maintenance and troubleshooting.
Detailed monitoring and trending data
Monitor the differential pressure of filters with trending data and maintenance reminders to prevent system shutdowns.
Customize options for your specific needs, including safety system integrations, broken bag detection, HEPA filter monitoring, and much more.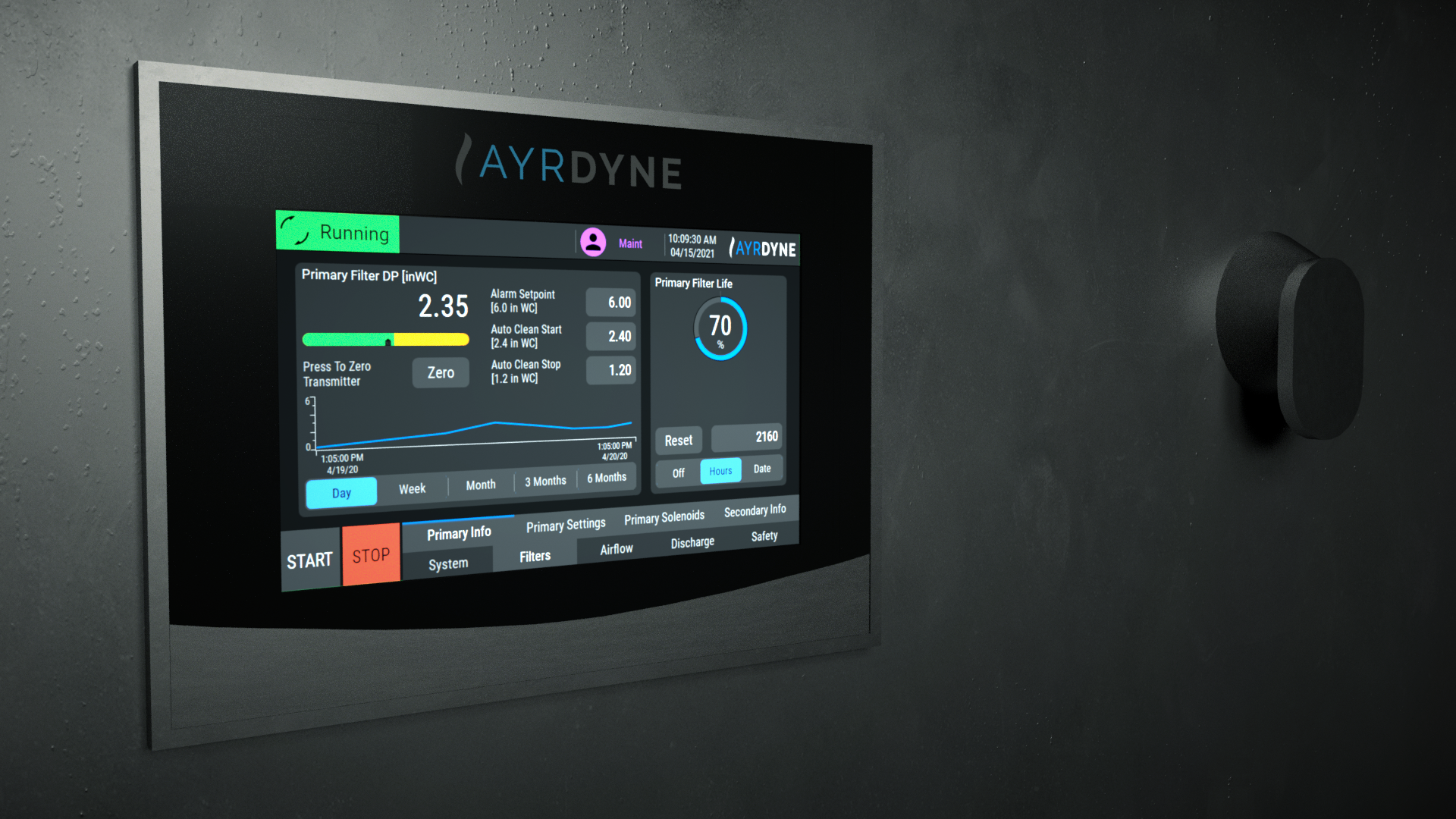 The AyrDyne you know, now with more features and options
MULTIPLE SCREENS
Maintenance, VFD setup, DP trending etc.
PASSWORD PROTECTED
Now standard
SYSTEM FEEDBACK
Voltage, frequency, DC bus voltage, etc.
NEMA RATING
Standard AyrDyne® enclosure NEMA 12 Controller has the ability to integrate into NEMA 4x enclosure
FLEXIBLE & CUSTOMIZABLE USER INTERFACE
PROCESS INTERLOCKS
Can interlock with existing process
REMOTE SIGNALS
Dry contact, 4-20mA, 0-10VDC, etc.
NEW COMPRESSED AIR MONITORING
Maintenance, VFD setup, DP trending etc.
DIFFERENTIAL PRESSURE
Ability to monitor, trend, and data log
STATIC PRESSURE
AUTOMATIC OR MANUAL VFD FREQUENCY CONTROL
CLEANING SYSTEM
COMPRESSED AIR PRESSURE

SAFETY SYSTEM INTEGRATION, SMOKE ALARMS, E-STOPS, FAULTS ETC.
HAND-OFF-AUTO CONTROL FOR ROTARY VALVES AND SCREEN CONVEYORS
HOUR METERS
Preventative maintenance can be done based on hour meter, calendar, or Delta P.
DEMAND CLEANING, DOWNTIME CLEANING, CONSTANT CLEANING, AND INDIVIDUAL SOLENOID CONTROL
PRESET FILTER LIFE INDICATOR
(on screen reminders)
ALARM BANNER

EP SYSTEM INTEGRATION/MONITORING
UL Listed per 508A
NEMA 12 enclosure, UL type 1 assembly, size to be determined
Through the door fusible disconnect switch with appropriate fuses
Red and yellow rotary handle, lockable in the off position
Control power transformer, V-120V with appropriate fuses
VARIABLE FREQUENCY
DRIVE (VFD) CONTROL
Automatic

Display and modify various VFD parameters
AYRDYNE CONTROLLER/ MONITORING SYSTEMS
Color HMI

Start and stop control of system

Hand/Off/Auto for each motor

Adjustable cleaning settings

Adjustable alarm setting

Blower on indication

Blower fault indication (fault code of VFD will be shown on AyrDyne)
FILTER DIFFERENTIAL
& CLEANING SYSTEM
Automatic control of pulse cleaning system with downtime pulsing

Filter high differential pressure indication

Primary filter differential pressure trending
Ability to pulse individual solenoids to aid in troubleshooting

Hour meter to indicate blower run time

Wiring diagrams and layout drawings provided by DenTech
DenTech can customize your AyrDyne solution with optional features that fit your needs.
Options include:
Isolation valve circuitry

Explosion bottle system

Fire suppression shutdown

Zero speed switch

Double dump valve

Broken bag detector

Hight temperature alarm

Compressed air dump valve

HEPA pressure drop monitoring

Remote Start/Stop option

NEMA 4 remote Start/Stop option

NEMA 4 outdoor window kit

Additional motor

Larger HMI screen (9" or 15")

Allen-Bradley hardware

Contact us for a full list of AyrDyne options.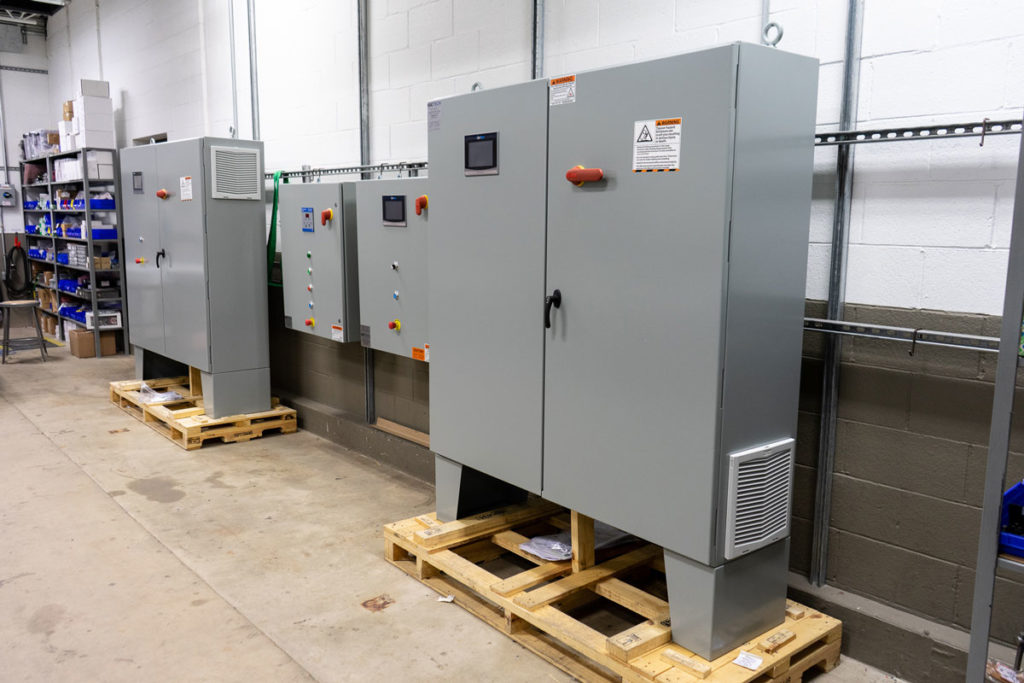 Control panel is based on installation indoors, in an area that does not exceed 90°F, decrease below 55°F, or installed in an area that does not receive direct sunlight. If installed in an area that exceeds these conditions, all warranties are void.


DenTech, Inc. is a U.L. Listed Industrial Control Panel Shop with File numbers NITW.E328554 (508A) and NRBX.E478110 (698A).


DenTech, Inc. shall not be responsible for any harmonics that are fed back into the power grid and / or radiated from the equipment. We recommend that a harmonic check test be performed before this equipment is installed. Price does not include costs of any testing or harmonic mitigation.


Due to the technical nature of this control panel and customer expectations, it is highly recommended by DenTech, Inc. for one of our Control Engineers be present on site for startup. This is not included in the price for the control panel listed on this quote. If desired, please enquire and a separate quote will be provided.


Installation of control panel to be performed by a knowledgeable electrician with experience with control circuits. DenTech, Inc. will not be responsible for incorrect installation, damage to equipment, injury to personnel, or death.


Price does not include any other field installed devices or remotely mounted sensors not mentioned on this quote.


Price does not include any permits, certifications, inspections, or fees associated with the previously mentioned.


Price does not include any power conditioning (line reactors, surge protectors, etc.) devices. This shall be the responsibility of others to provide, if necessary. If it is determined this is needed and not installed, all warranties will be void. If damage occurs, then it is determined that the power source surged, spiked, etc. and no protection devices were installed, repair and / or replacement will not be covered by warranty.


Price does not include any programming software, if applicable.


Price for control panel does not include any applicable freight or delivery charges.


Price for control panel does not include any applicable sales tax.


Price for control panel does not include any on site installation or start up.


Program loaded into PLC is proprietary property of DenTech, Inc. Program will not be provided separately, PLC will be password protected, and password will not be provided.


The manufacturers of the control panel components shall be at the discretion of DenTech, Inc. If customer requires specific manufacturers, price may need adjusted.


Warranty: One (1) year parts & labor for manufacturing defects. Manufacturer's warranty applies for commercial components. Warranty period begins upon delivery of equipment and shall not be extended due to non-use of equipment.
(All components are shipped loose and do not include installation)
Compressed Air Dump Valve – Maximum air pressure = 145 PSI, Temperature range = 32 to 140 degree Fahrenheit, Voltage = 24 VDC, Max flow rate = 250 scfm @100 psi


Level Indicator – Rotary Paddle style monitor, Temperature range = -57 to 200 degree Fahrenheit, Power required = 24 VDC, Output contacts = 15A @ 250 VAC max, Maximum pressure = 30 PSI, Sensitivity = 5 lb./ft3 minimum material density


Broken Bag Detector – 316 SS Probe length = 3", 6", 12", 18", 30", 36" long, Temperature range = -35 to 185 degree Fahrenheit, Maximum pressure = 30 PSI, Power required = 24 VDC, Output contacts = 5A @ 30 VDC or 250 VAC max, Humidity range = 0-95% relative; non-condensing, Dynamic range = 1pA – 10,000,000 pA


Compressed Air Monitor – Flow switch, Temperature range = 200 degree Fahrenheit, Pressure Limit = 500 PSIG, Electrical rating = 1.5 A @ 24VDC, SCFM 11.6, LPM 328


For access to downloads, line cards, case studies, manuals and more, please visit our resources page.
"Started the collector tonight. All I can say is PERFECT. Damn near blew the lights down, but it was great!
It's the gold standard. I look forward to doing additional business with you guys."
"I can confirm that the changes we implemented on your recommendations had real, immediate and lasting effect- the filter chamber is completely free of buildup, and the [newly purchased] standard steel drums and dollies fit perfectly underneath, and just fill right on up. Delighted that we aren't left with a lemon. Thanks for the solid expertise- it's all too rare these days- and keep up the good work."
"DenTech has been a great company to work with. They strive to get the job done on time, in a professional manner and
keep quality at the top of their list! They are a great team to work with for fabrication and installation!"
"I have been doing business with DenTech Industrial for more than 25 years and together we
have completed hundreds, if not thousands of projects..."
"Service was excellent. Guys were wonderful, patient, and extremely accomodating.
Everything working as it should!! Thank you."