Whether you're building a new facility or making changes to an existing process, DenTech can help you integrate appropriate measures to manage combustible dust.
What is explosion protection?
Explosion protection uses mitigation devices (such as ignition controls or explosion vents) and dust collection system design to reduce the chances of a deflagration or explosion caused by combustible dust.
Ignition (spark or ember)
Fuel (combustible dust)
Oxidizer (oxygen in the air)
Dispersion (dust suspended in the air)
Confinement (dust concentrated in a small space)


Explosion protection methods may work to prevent incidents or limit the damage caused by incidents.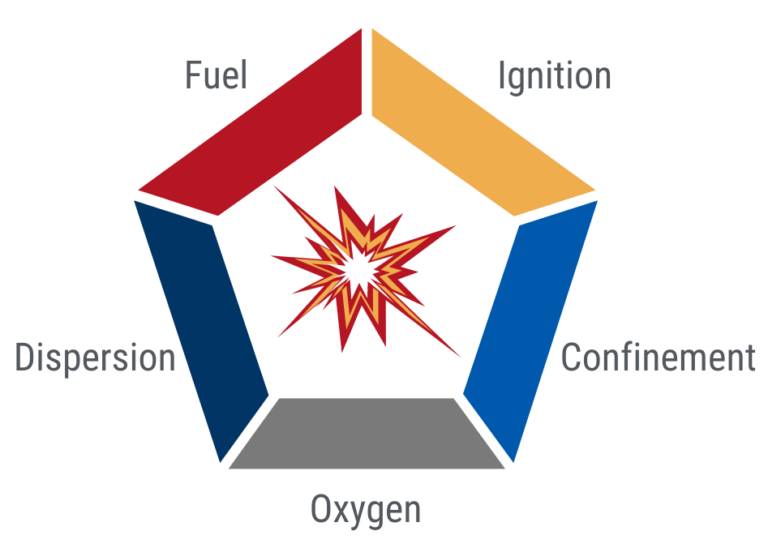 Why is explosion protection important?
Many manufacturing processes produce small dust particles which may become airborne and settle on various surfaces in the facility. If the dust is combustible, then it could create a potentially explosive dust cloud when disturbed.
Combustible dust presents fire and explosion risks, so manufacturing facilities should take actions to mitigate these risks and keep employees safe. Industries with combustible dust hazards include agriculture, chemical, food, grain, plastics, wood, textiles, metal processing, and pharmaceuticals.
Local, state, and federal mandates apply to facilities to ensure they are operating safely. Many authorities reference standards from the Occupational Safety and Health Administration (OSHA) and the National Fire Protection Association (NFPA) to identify potential hazards and put proper protections in place.
NFPA Standard 652: Standard on the fundamentals of combustible dust; includes requirement for dust hazard analysis (DHA)
NFPA Standard 61: Standard for the prevention of fires and dust explosions in agricultural and food processing facilities
NFPA 68: Venting of deflagrations
NFPA 69: Explosion prevention systems
NFPA 484: Standard for combustible metals
NFPA: 654: Standard for the prevention of fires and dust explosions in manufacturing and processing facilities
NFPA 655: Standard for prevention of sulfur fires and explosions
NFPA: 664: Standard for the prevention of fires and explosions in wood processing and woodworking facilities
Examples of mitigation devices for explosion protection:
Examples of fire protection devices:
As a systems integrator, DenTech does more than buy parts. We'll develop a custom solution that fits with your facility's system and processes.
We'll start with identifying combustible dust hazards in your facility. After reviewing your dust collection system, we'll recommend improvements and mitigation devices for your production process.
Our turnkey solutions offer several benefits to you:
Single point of responsibility from start to finish
One purchase order
Custom solutions to meet your needs
35+ years of experience
"Started the collector tonight. All I can say is PERFECT. Damn near blew the lights down, but it was great!
It's the gold standard. I look forward to doing additional business with you guys."
"The installation crew did an excellent job. Everyone is quite impressed with the results. We are all set for them to do the new HEPA installation on Monday, as well as, the remaining duct demo on the roof. I hope the guys get some well-deserved rest and start feeling better."
"I can confirm that the changes we implemented on your recommendations had real, immediate and lasting effect- the filter chamber is completely free of buildup, and the [newly purchased] standard steel drums and dollies fit perfectly underneath, and just fill right on up. Delighted that we aren't left with a lemon. Thanks for the solid expertise- it's all too rare these days- and keep up the good work."
"DenTech has been a great company to work with. They strive to get the job done on time, in a professional manner and keep quality at the top of their list! They are a great team to work with for fabrication and installation!"
"Service was excellent. Guys were wonderful, patient, and extremely accomodating.
Everything working as it should!! Thank you." This is not a comprehensive list. If you don't see your industry, give us a call.
For access to downloads, line cards, case studies, manuals and more, please visit our resources page.