Dust Collection in New Jersey & New York
Dust Collection in New Jersey & New York
We've been providing turnkey dust collection solutions for customers throughout the North New Jersey/New York region for over 35 years
. Our pharmaceutical, nutraceutical and food customers have come to count on us to keep operations running smoothly, efficiently and without the presence of hazardous dust.
Our technicians can integrate, install, and service any make or model of dust collector
. We'll handle your project from start to finish, so you can know it is in the right hands.

Donaldson Torit Gold Dealer
We have a long-time partnership with Donaldson® Torit, the manufacturer of Torit, DCE and Aercology equipment and the world leader in dust collection technology. We're the exclusive dealer of Donaldson product in the New Jersey and New York region and throughout PA. DenTech is a registered Donaldson® Torit® Gold Dealer and authorized sales and warranty service center.
No matter how big or small the project, we take the same care with each and every one. First, we will get you in touch with the appropriate sales rep to best match your specific needs. From there, a project manager will join and meet you on-site for a consultation. This person will manage your project from start to finish to ensure no missing pieces. Once all measurements are taken and a direct plan is discussed, it's off to the design team to digitally create the system to fit your space using Solidworks. With your approval of the drawing, we are ready to get started on the build. Equipment and controls can be worked on simultaneously with any fabrication needs. By now we are ready to get your system installed by our millwrights. They will carefully rig, place and put the system together, allowing for our electricians to get in to safely set up for final inspection. We will commission the system and train employees on-site. And finally, we'll make sure you get the proper follow up service.
How Can a Dust Collection System Benefit Your Facility?
There are many reasons you may want, or need to install a dust collection system in your facility. Protecting your employees from pollutants in your work environment is one. It could help your facility comply with air quality management and government compliance regulations. It's important to be up to date on New Jersey/New York region-specific regulations. It can also boost worker productivity, and lower operating costs. These savings can come from reducing your health, safety, insurance and operational housekeeping costs. Lastly, it can improve product quality and improve facility cleanliness.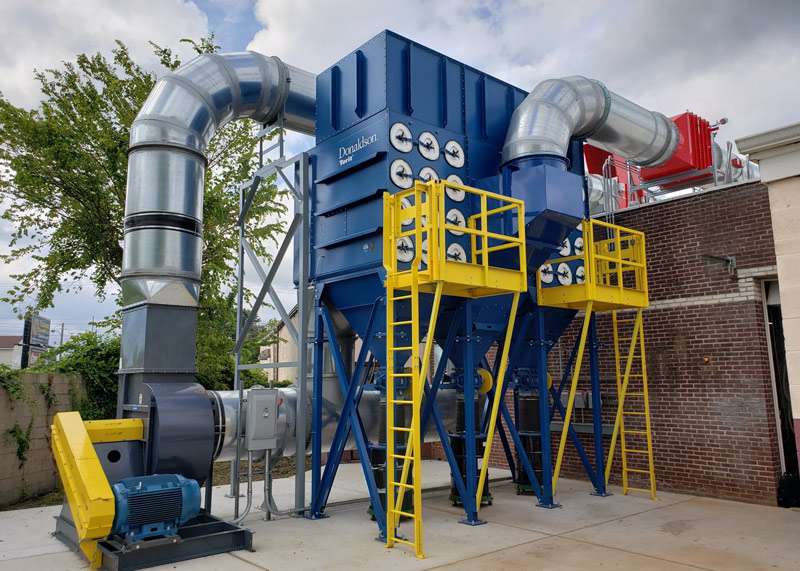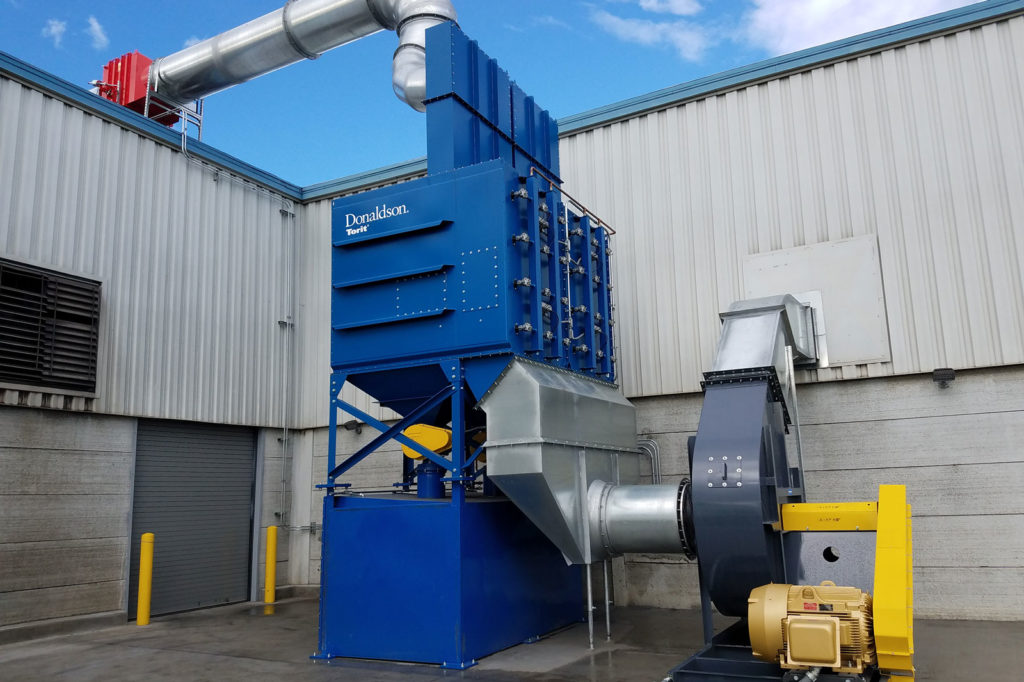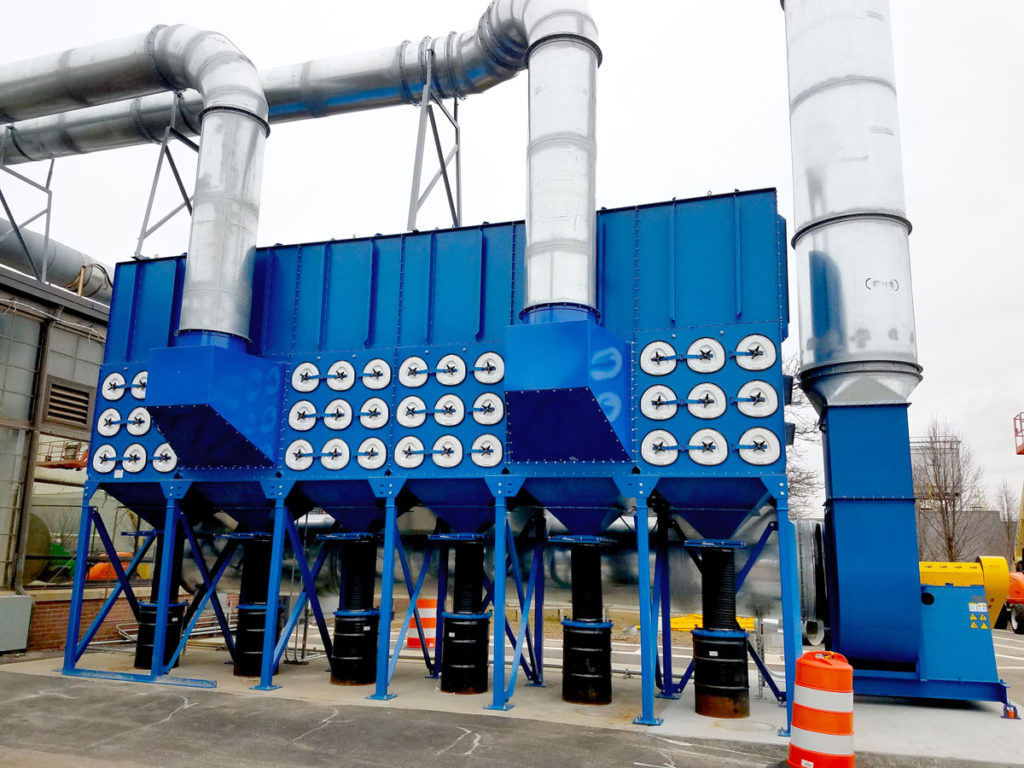 Our Newark, New Jersey Location
1 Gateway Center,
Newark, NJ 07102
800-800-2719
Monday: 7:00-4:30 PM
Tuesday: 7:00-4:30 PM
Wednesday: 7:00-4:30 PM
Thursday: 7:00-4:30 PM
Friday: 7:00-4:30 PM
Saturday: Closed
Sunday: Closed
"We used Dentech to install silencers on our existing dust collection equipment. They were knowledgeable, professional, and the project went smoothly. Very happy with their team and will use them again."
Atlantic
Bergen
Burlington
Camden
Cape May
Cumberland
Essex
Gloucester
Hudson
Hunterdon
Mercer
Middlesex
Monmouth
Morris
Ocean
Passaic
Salem
Somerset
Sussex
Union
Warren
Albany
Bronx
Broome
Cayuga
Chautauqua
Chenango
Clinton
Cortland
Delaware
Dutchess
Erie
Fulton
Kings
Livingston
Madison
Monroe
Nassau
New York
Niagara
Onondaga
Ontario
Orange
Oswego
Putnam
Queens
Rensselaer
Richmond
Rockland
Saratoga
Schenectady
Seneca
Steuben
Suffolk
Sullivan
Tompkins
Ulster
Wayne
West Chester
Yates
"Started the collector tonight. All I can say is PERFECT. Damn near blew the lights down, but it was great!
It's the gold standard. I look forward to doing additional business with you guys."
"The installation crew did an excellent job. Everyone is quite impressed with the results. We are all set for them to do the new HEPA installation on Monday, as well as, the remaining duct demo on the roof. I hope the guys get some well-deserved rest and start feeling better."
"I can confirm that the changes we implemented on your recommendations had real, immediate and lasting effect- the filter chamber is completely free of buildup, and the [newly purchased] standard steel drums and dollies fit perfectly underneath, and just fill right on up. Delighted that we aren't left with a lemon. Thanks for the solid expertise- it's all too rare these days- and keep up the good work."
"DenTech has been a great company to work with. They strive to get the job done on time, in a professional manner and keep quality at the top of their list! They are a great team to work with for fabrication and installation!"
"Service was excellent. Guys were wonderful, patient, and extremely accomodating.
Everything working as it should!! Thank you." This is not a comprehensive list. If you don't see your industry, give us a call.
For access to downloads, line cards, case studies, manuals and more, please visit our resources page.