The use of automation and robotics in manufacturing facilities is on the rise.
According to a global survey by McKinsey, 83% of executives surveyed in the U.S. reported faster adoption of automation since the start of COVID-19.
Companies are increasing their use of industrial robots, too. The Robotic Industries Association reported that the number of yearly robot orders in 2020 grew by 69% in life sciences, pharmaceutical, and biomedical markets. Additional growing markets are food & consumer goods (56%) and plastics & rubber (51%).
We're seeing that although automation and robotics have been growing trends for years, COVID-19 accelerated needs for these kinds of solutions. The surges in online shopping and e-commerce increased demands for efficient warehouse and distribution processes. Manufacturing facilities across industries needed new solutions to keep their employees safe, maintain production, and adjust to changing customer demands and supply chain issues.
Regardless of designing a new system or upgrading an existing process, automation and robotics offer several benefits for safety, efficiency, and visibility.
Enhanced safety
Safety controls and motion controls reduce chances of employee injuries. Robots can be used to complete tasks that may cause harm to people, such as doing repetitive movements or working with hazardous materials.
Improved efficiency
Upgrading manual processes to automated solutions helps speed up production, reduce errors, and maintain better quality control.
Increased visibility
Sensors monitor equipment and conditions to gather data on production flow and potential issues. Automated processes offer the ability for remote access and control, so that staff can understand what's happening in the facility without being onsite.
DenTech's skilled in-house team can work with you to develop automation and robotics solutions. We design, build, program, and install custom solutions including systems integration, machine retrofits, and control system upgrades.
Featured Project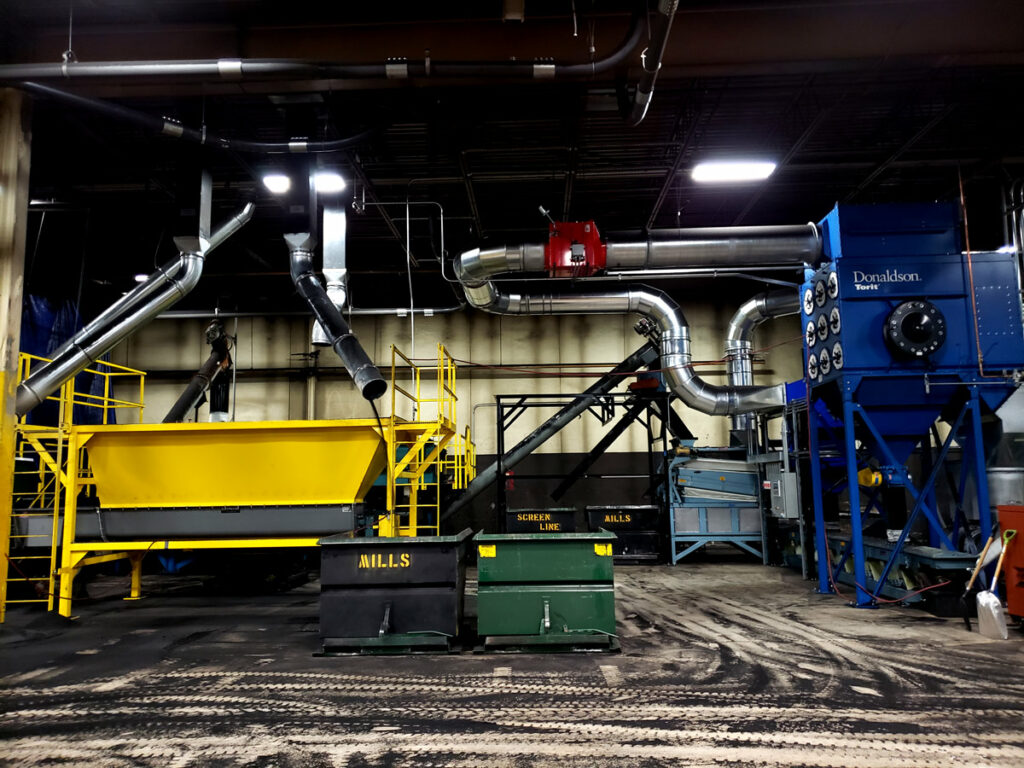 We worked with a flooring manufacturer to update their material handling process. The flooring manufacturer came to DenTech with a concept for changes to improve efficiency. DenTech took their concept and turned it into working drawings that guided fabrication, mechanical installation, and electrical installation.
Over the course of two months, our team installed various pieces of equipment for the material handling system. We designed, fabricated, and installed a large material hopper, and we installed a Donaldson Torit Downflo® Evolution cartridge dust collector.